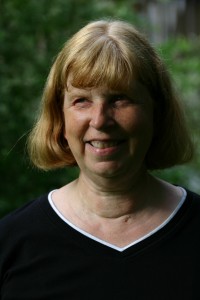 I am a reader, a writer, and a teacher. I never go anywhere without a book and often read several at a time. I dream of a reading vacation where I do nothing but read so I can read all the books in my very large piles.
I taught 7th and 8th grade English for many, many years. I love talking about books with teens (and others who like to read books for teens!) and writing with them. I've helped run a two week summer writing camp for students in grades 6-12. Writing with these students and hearing them read their pieces is a highlight of each summer.
Now I work part-time for the Young Writers Project. I help teachers of grades 5-12 with the use of digital classrooms and give them ideas for writing with students. I love visiting real classrooms and reading students' writing on the sites.
I earned my MFA from Vermont College of Fine Arts in 2007. Since graduation, I am a frequent visitor to campus for conferences, lectures, and readings. Every spring, I co-run a Novel Writing Retreat at VCFA for writers who have completed a middle grade or young adult novel.
I write for middle-grade and young adult readers. I am a member of SCBWI.  I won the Pen New England Discovery Award for my work-in-progress in 2007. I am represented by Barry Goldblatt of Barry Goldblatt Literary.
I live in Vermont with my husband and my dog. I enjoy spending time with my grown children and my brothers and sisters and nieces and nephews. When I'm not reading or writing, I love taking long walks (especially in the woods), gardening, and baking.